SIFTS AS FAST AS YOU CAN SHOVEL
The MultiScreener is an electric powered, portable soil screener machine that is Made in the USA. The MultiScreener can be  used for separating materials from medium. This machine will quickly and easily separate rocks and debris from soil , sand, and other free-flowing materials. Gone are the days of hand sifting soil and loam.
The MultiScreener has many uses and is perfect for the home gardener. Use the MultiScreener for separating sod from soil. Then use it to screen your compost for flower beds and vegetable gardens. You can also use it for mixing fertilizer with topsoil or loam for flower pots and box gardens.
The MultiScreener has been used in Artifact Digs, Mushroom Growing Facilities, Agricultural Laboratories, Landscaping, Shooting Ranges and more. One of our customers used our MultiScreener to recover bones that were discovered in St. Patrick's Cathedral during a basement remodel. Learn more
MULTISCREENER PICTURED WITH 3/4″ SCREENS.
MACHINE WAS FED FROM THE LOADER BUCKET BY HAND.
The MultiScreener will save you hours of back-breaking work and allow you to reuse materials you have on hand. Clean your flower bed, reuse garden stone, separate sod from soil and more…
Easy to use
Simple Assembly and operation.
Move it to your desired location.
Plug it into your electric receptacle.
Adjust height of legs for desired flow rate.
Shovel material onto the screens at the end closest to the motor.
To make the material flow faster, raise the height of the rear legs.
It's as easy as that!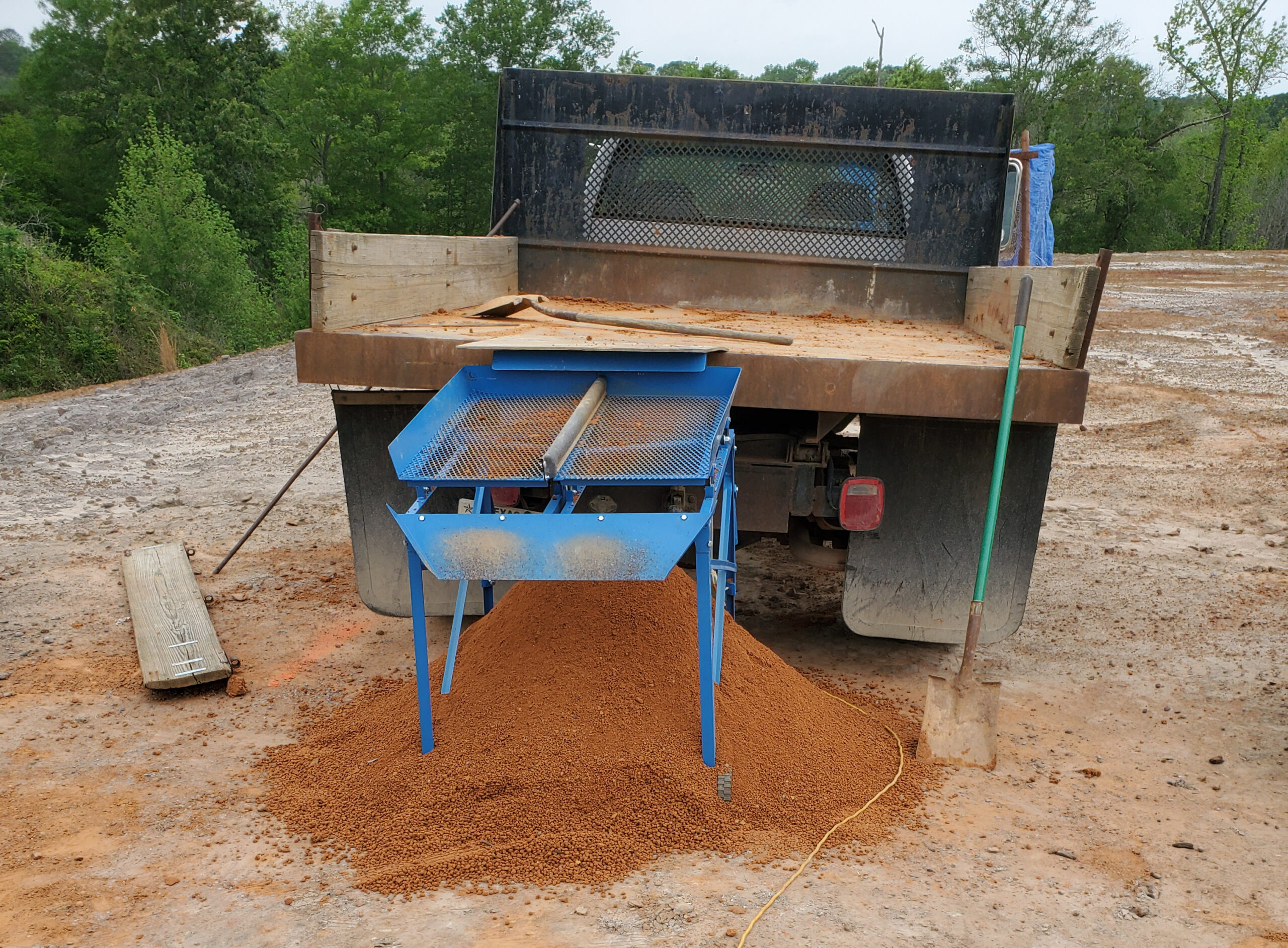 Questions?
Complete this form
MultiScreener Facts
Made in the USA*
All Steel Construction
Screening surface area – 30″X30″(Approx.) Specifications
Height from ground to screen – 30″
Inside width – 28″
Wheel Mounted for Mobility
Fold down handles
Six month warranty*
Leg Angle Adjustment controls flow
Ships with 1/2″ screen set installed
Additional Screen Sizes Available

Fine – 1/4″ openings
Coarse – 3/4″ openings
*Made in the USA disclosure: The motor and a few other components may be of foreign origin. The steel and workmanship is USA Made.
MultiScreener Owners Say…
Popular Soil Screening Uses
Topsoil Screening
Use the MultiScreener for breaking down your topsoil into a finer base for new lawns and landscapes.
Compost Screening
MultiScreener will break down clumpy compost and removed unwated debris.
Mixing Potting Soil
Use the MultiScreener for creating potting soil by sifting all of the components together and then filling bags or buckets for plantings.
Worm casting Separation
We have many very satisfied owners using the MultiScreener for their worm castings. They attach a 1/8″ screen, purchased at their local hardware store, to the top of our standard half inch screens with great success.
Screening Lead Extractions at Shooting Ranges
Gathering lead from shooting ranges can be a monotonous, labor intensive task but the MultiScreener makes light work of it, according to one of our owners in Florida who screened 600 lbs of bullets in a day.